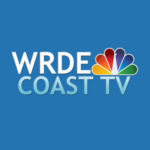 JOB OPPORTUNITY AT WRDE – COAST TV NEAR REHOBOTH BEACH, DELAWARE!
WRDE- COAST TV is located within minutes of the Atlantic Ocean and the beautiful beaches. We are an NBC affiliate that covers the coasts of Delaware, Maryland and Virginia.   We work in a new state-of-the-art digital facility and we have a helicopter.
We are looking for someone to edit our new morning newscasts from national network feeds and take story feeds from our news crews.
We seek a self-motivated, detail oriented, organized person with strong interpersonal skills. Bi-lingual language skills are a plus.
Knowledge of Adobe Premier Pro editing software is essential. Interested applicants should also have a working knowledge of communications, broadcasting, I-T or Mass Media. Applicant should also have a good working knowledge of computers, video and audio equipment.
If this job is for you, please send resume and cover letter to:
Human Resources
WBOC
1729 N. Salisbury Blvd.
Salisbury, MD 21801
humanresources@wboc.com
No Phone Calls EOE